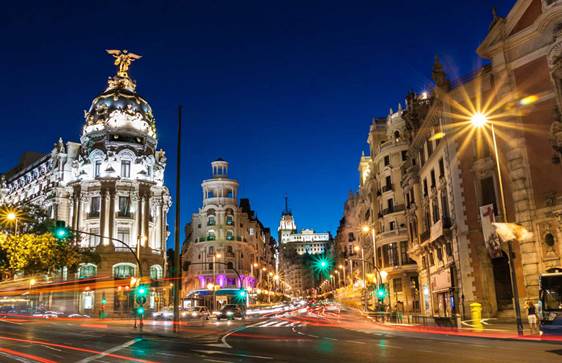 Madrid
The Pestana Plaza Mayor - Madrid is a luxury hotel located at the main square of the Spanish capital.

"Madrid is full of literature, poetry and music on all four sides, so much so that she herself is a literary character". Ernest Hemingway

In Madrid, you are spoilt for choice with cultural options. From the great museums with works by Picasso, Dali, Miró and Velázquez, to flamenco shows, old architecture and avant-garde avenues, there are many exciting things. The Plaza Mayor is the epicentre of the "Madrid de los Austrias" (Habsburg district), the dynasty that ruled Spain in the 16th and 17th centuries. The square features a bohemian atmosphere, with its wide esplanades, antique markets and travellers from all over the world. The proximity to the Gran Via, Royal Palace, Madrid Cathedral, Debod Temple and other monuments makes it a great choice for your stay.
Spanish cuisine is appreciated all over the world – who doesn't like a selection of delicious tapas on the table while having a chat? And before retiring to the comfort of your room at the Pestana Plaza Mayor, remember the Madrid nightlife is one of the liveliest in Europe. A late night out is worth experiencing.
Read more
Read less